Testimonials
Most Recent Testimonials
Read what our clients have to say about Capital City Spay and Neuter Clinic! If you would like to add a testimonial to this page, please call us at (614) 761-7551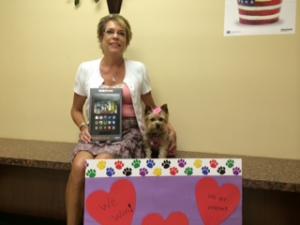 OUR GRAND PRIZE WINNER OF THE KINDLE FIRE IS LEXIE!!!
Lexie came dressed in her finest today to pick up her Kindle Fire for her mommy. Lexie is very happy that her mommy knows the importance of keeping her on year round heartworm and flea prevention.

—Capital City Spay and Neuter Clinic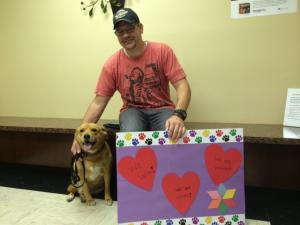 OUR MAY WINNER FOR THE HEARTGARD AND FRONTLINE CONTEST IS: MELLOW AND DOUG!
Mellow chose the 3 months of Frontline Protection so he can remain flea free during the summer months.

—Capital City Spay and Neuter Clinic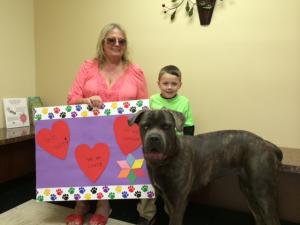 OUR APRIL WINNER FOR THE HEARTGARD AND FRONTLINE CONTEST IS: BABY!!
Baby and her owner chose the 6 months of Heartworm prevention because they know the importance of staying on monthly heartworm prevention.

—BABY



We would like to THANK YOU for the great job you did for our Golden Retriever, Beau. He got his cone off today and wanted you to know he feels great now!! I would recommend you to anyone needing affordable pet services. Thanks - Doug Viant

—Thanks!!
Great service and people! —Marissa Artar
Loved the prices. Clean/large exam rooms. The receptionist was kind and gave lots of information while answering my millions of questions before deciding to try this veterinary clinic. My puppy came out of surgery with no problems and his incision looks wonderful. Very good vet!! I'll defiantly be coming here from now on. Thank you so much for helping younger couples afford to keep pets healthy and happy. I could not have asked for better!!!! —Lauren Alexis Baldic
Close, kind and affordable! They do all sorts of preventative and routine care for dogs and cats. Daisy and I agree the $8.00 nail trim is the bargain of the week! —Melissa Henry Wendt
Thank you for being a great facility. Loki and Batman will definitely be back for any needed vet care in the future. Thank you also for being so affordable for young couples such as we are to be able to afford high care to our pets and give them a happy healthy life like they deserve. You're awesome!! And a shout out to Lauren for being so great with information and answering all my questions 100%. It made me highly confident in having our puppy come for surgery and will keep us as long time patients!!!!
Thank you again —Lauren Baldic
I wanted to share with you all (Dr. Murphy and your entire wonderful staff) photos showing just a very small sample of the difference you've made in All of our lives! Rescuers, pet owners, animal lovers in Central Ohio are Very Grateful for you and your clinic. :)

We were rescued and then Thankfully helped by Dr. Christinna Murphy at Capital City Spay and Nueter Clinic so we may live happier and healthier lives, full of Love!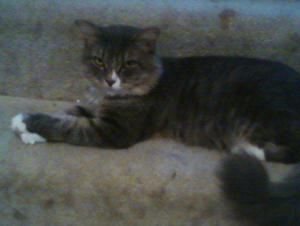 —Jewels West
I've been an independent cat rescuer for over 20 years, and since hearing about you from a relative, have brought several of my rescues to your clinic for spaying/neutering. Dr. Murphy's pure dedication to animals is very apparent, and she offers just as much time and care with each of her patients as any full-service veterinarian. It was also through your clinic that I connected with B & O Cat Foundation,(Robin), who has assisted me with caring for the cats I've rescued. Thank You So Much for Everything you do, and for loving animals the same way I do! I've recommended your clinic whenever possible :) —Julie (Jewels) West
Dr. Murphy and Crew,

Thank you so much for your donation to the Marathon Campaign and all the wonderful things that you do for Black and Orange. You guys are truly a blessing. Thank you again for everything.


Black and Orange Cat Foundation —Bobbie Timmons
I LOVE going to this clinic - the care is AMAZING and the prices affordable :) I highly recommend it. —Dawn Huelskamp
Black and Orange Cat Foundation has been using Capital City Spay and Neuter Clinic since the clinic opened and we have trusted Dr. Chrissy Murphy with our kitties even before she started Capital City. We've been working with Dr. Murphy and her great staff for over 6 years. We receive super service and prices, but even more than that, we are always assured that our ferals, fosters, and the other cats entrusted to us, will be given the best possible care. No cat is ever treated as if it doesn't matter. Even the strays are treated like valued, pampered pets. Thank you to Dr. Murphy and everyone at Capital City for all that they have done for B and O's kitties.


Black and Orange Cat Foundation —Robin Craft
I'd like to say thank you to everyone at the Capital City Spay and Neuter Clinic for taking such good care of my puppy, Faith back in February. When I called to schedule Faith's appointment to be spayed, the receptionist was very friendly and helpful. The morning of Faith's surgery, I was just as nervous as she was. Dr. Murphy came out to the waiting room to get Faith with the warmest, sincere smile. I knew then she was in good hands. The surgery went great! A couple days later someone from the clinic called to see how Faith was doing, which was very nice. I am thankful that I chose Capital City Spay and Neuter Clinic to take care of our puppy. Faith isn't just a pet, but a member of our family. —Nicole Virts -London, Ohio
I have taken both my dogs to Capital City Spay and Neuter Clinic and I must say this place is FIRST CLASS. Very clean and the staff is wonderful and treat the animals as if they were their own. The prices are the best around. I would highly recommemd this clinic to anyone. Convenient, quick, quality service!!! —Karen Johnston